AIWatering
The Best Controller for Irrigation System
Plus 2 Expandable Smart Control
&
AI MODE、AUTO MODE、TIMER MODE
MIX MODE、DATA RECORDS、WIFI REMOTE
Are you looking for a better solution to water your plants when you are away
or just looking for a better way to manage this everyday chore?
Do you feel that each time you leave the house for days,
you are gambling your plants' survival on a primitive watering system
that you cannot predict the outcome? Or you never know whether your plants have
the right amount of water supplied to keep them healthy?
By installing ideaRipple automatic watering controller, you can monitor
soil status on-line and water your plants accordingly with your phone or computer.
ideaRipple AI automatic watering controller comes with the following features:


IoT soil status records for each controller
- Soil status history for analyzing plant's water requirement.
- monitor your plants' condition.


Remote irrigation controller
- You can water your plants from anywhere you are.

Besides AI automatic watering controller, ideaRipple provides you
two connectors for your imagination, D7 & D8.
These connectors can be turned on/off by wifi from your phone or computer.
You can use D7 & D8 connectors to control fixtures or any device you wish to remote control,
allowing you to upgrade them into smart appliances.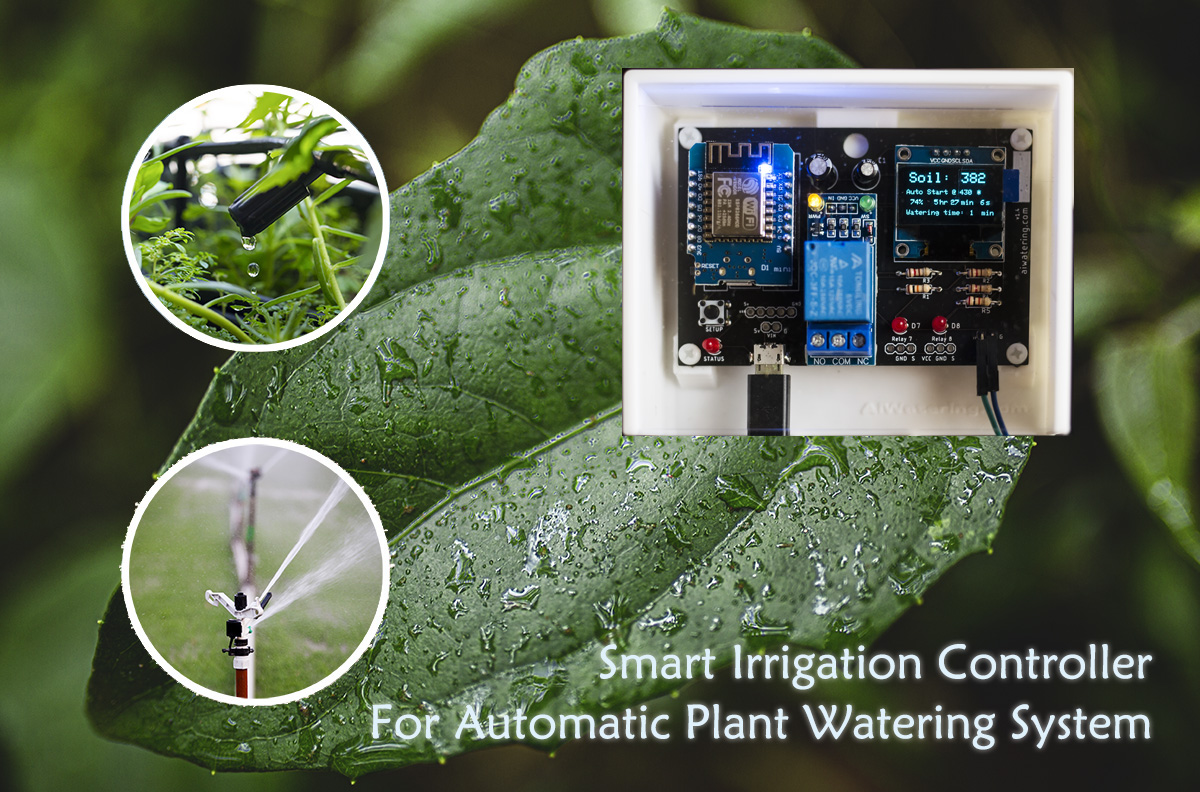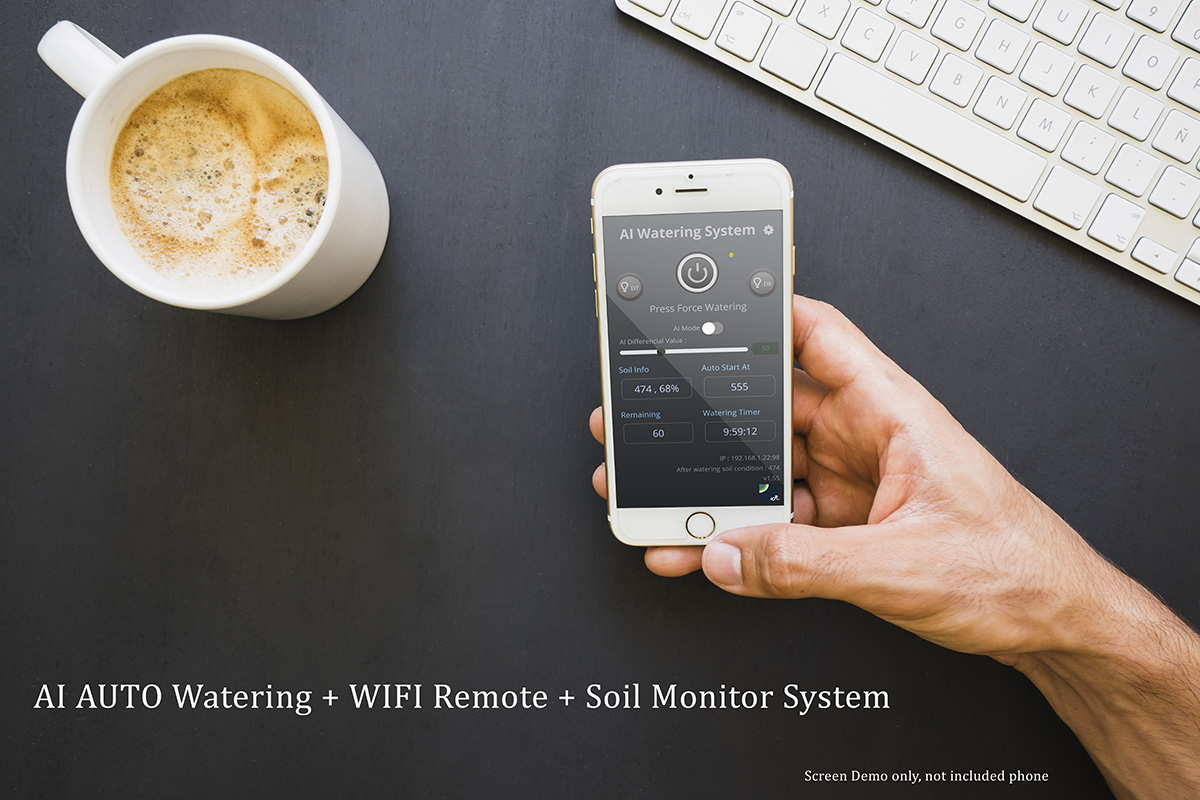 IoT cloud data account
&
real-time
soil condition monitoring
We offer free IoT cloud date account.
Please sign up online to obtain this account.
Once you have your AI automatic watering controller ready
(setup and switched on), it will be connected to your cloud account automatically.
IoT will record plants' soil condition; therefore, you can check real-time soil condition and historical record,
and tune up your device to perfect settings that suit your plant.
Compatible with iOS, Android, PC, MAC, Linux, all devices.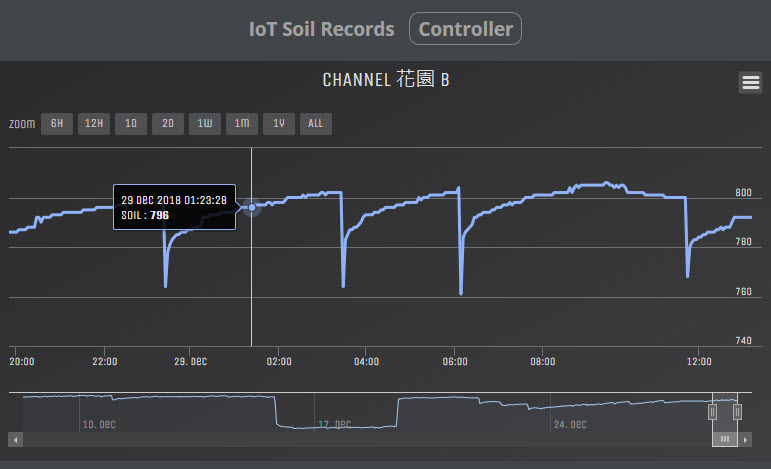 Feature 1





Feature 3

Feature 4



Feature 6
Flexible setting
3 AUTO MODEs + MANUAL MODE + TIMER MODE
The device will automatically adjust
according to the conditions you set
and adapt to the optimal startup value.

Watering will start automatically
according to the startup value
you set for soil humidity.

Watering time can be setup

You can force watering any time
by press the button on the controller
or via your smartphone/computer
when you are away.

Watering time can be adjusted at any time
Also it can be stopped completely
Adjust your controller to the best condition
at any time anywhere

You can control the device via the internet.
If the controller device is abnormal,
you can always restart it whenever you are.

The only AI + IOT automatic watering system on the market
Remote interface and OLED screen
A clear interface and complete operation and control provided. Compatible with all devices (Android, iOS, PC, MAC, Linux), as long as there is WIFI, you can monitor and control this device remotely from anyplace anytime.
There are additional two connectors, D7 and D8, for you to upgrade your household appliances into smart appliances, and remote control them via WIFI.

Note:
This additional expansion only provides the drive signal. Please purchase related equipment according to the requirements. Please refer to the installation manual for the installation method.

Even without WIFI, the device can operate on a stand-alone basis. This device comes with a high-brightness OLED screen for smooth operation in a WIFI free environment, allowing you to achieve automatic watering in a network-free location.

High definition OLED screen